Khore
Jump to navigation
Jump to search
Khore (I)
Lord of the Kindred Vampyric
Greater God
Created
Prior to 1995
Status
Retired
Retired
Feb 14, 2001
(Among others)
Race
Elf
Hometown
Half-Elf Camp
Classes
Mage
Last Seen
2015
Followed
Syla
Spouse
Risa
Partner
Rhina
Sapphyre
Parents
Family in Sanguinna (mobs)
Children
Clue (Blood-daughter)
Relatives
Family in Sanguinna (mobs)
Areas Written
Sanguinna & The Keep
Immorted
Greater God: 07/01/03
Following
Kindred Vampyric
Admin Duties
Created original TFC Forums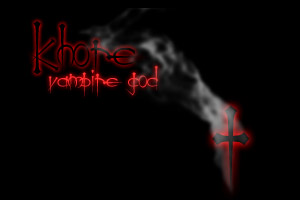 Mud Contributions:
Khore is the author of Sanguinna & The Keep. As an active god+, he wrote and hosted several mud-wide events, including the Golem Quests. He also regularly posted poetry. (See links below in Personal Timeline.)
Current Description:
March, 2011: written by Cordir
Fear prickles the hair at the back of your neck and a fine, chill sweat breaks out over the entirely of your body. Like a midnight sun, the mere presence of the individual who hovers before you beats at your skin, cold and unrelenting. Every instinct tells you to flee, run, hide, get AWAY... this is a predator. Ivory fangs gleam as He smiles slightly, drinking in the heady wine of your emotional response.

One elegant, pale hand brushes back locks of the darkest inky hue, drawing your gaze up to his face. Those eyes... like gleaming pools of blood or raw, angry wounds or the dark coals of a forge ... they are unrelenting, boring into the recesses of your mind, weighing, witnessing, seeing all.

An invisible wind, laden with the dry scent of caves hidden deep within the earth, stirs His hair, and causes the fine fabric of his garb to ripple softly. His eyes close, as if to receive the tender caress of a ghost. But then the moment of rememberance passes, and only the weary, uncaring Undead Lord remains...

Khore is bathed in the essence of charisma.
Khore is in perfect health.


Khore is using:

<worn on finger>    (Moderate magic) a silver ring set with an oval Saphyre

<worn on finger>    (Artifact magic) the Oaken Sigil

<worn on body>      a number-one-fan shirt

<worn on legs>      (Moderate magic) a pair of tailored black suede trousers

<worn about body>   (Moderate magic) a full sleeved, banded collar shirt of black muslin

<wielded>           a long pointy stick

<held>              a bag of useful Wands

<worn with pride>   (Artifact magic) (Glowing) (Humming) the Medallion of Godhood



EQ as of March 21, 2002: Restrings by Cordir

Khore is using:
<used as light>     (Glowing) a clove cigarette
<worn on finger>    (Moderate magic) a silver ring set with an oval Saphyre
<worn around neck>  (Moderate magic) a twilight gray silk cravat
<worn on head>      (Moderate magic) the faintest hint of moonlight
<worn on legs>      (Moderate magic) a pair of tailored black suede trousers
<worn about body>   (Moderate magic) a full sleeved, banded collar shirt of black muslin
<worn around wrist> (Moderate magic) starched white cuffs with onyx buttons
<worn around wrist> (Moderate magic) starched white cuffs with onyx buttons
<held>              (Artifact magic) the spiny adamantine staff
<worn with pride>   (Red Aura) the black Cape of the Ordinus Nosferatus
<worn with pride>   (Artifact magic) (Glowing) (Humming) the Medallion of Godhood


Restring of Note, Otober 3, 2000:
<worn around neck> (Magical) (Humming) The Amulet of Damn Good Looks
Khore says, 'Lounge Singer Khore.'.

WHO Lists:
Hel [        God        ] Khore the Zen Vampire.                              09/09/2000
Hel [        God        ] Khore, vinigoth, vidigoth, vicigoth.                10/04/2000
Hel [        God        ] Khore, the Implementor (coup)                       10/16/2000
Hel [         -         ] Khore goes bump in the Night.                       10/31/2000
Hel [      Retired      ] Khore.                                              07/20/2001
Hel [      Retired      ] Khore remains amused.                               08/03/2001
Hel [      Retired      ] Khore is no longer amused.                          08/25/2001
Hel [        God        ] KHore is Khore                                      09/01/2001
Hel [        God        ] Khore is the abominable bat man.                    09/22/2001
Hel [        God        ] Khore is collecting NOW.                            10/10/2001
Hel [        God        ] Khore: at the heart of every bad apple.             11/17/2001
Hel [        God        ] Khore is now an unemployed hobo.                    12/10/2001
Hel [        God        ] Khore, the dark one.                                12/31/2001
Hel [        God        ] Khore: half elven, half worthless- the elven half.  03/10/2002
Hel [        God        ] Khore: mostly responsible for all your problems.    09/19/2002  
Hel [        God        ] Khore Unit Zappa.                                   04/28/2002
Hel [        God        ] Khore is smiling at you...    =[                    05/15/2002
Hel [        God        ] Khore likes to play with his food.                  05/22/2002
Hel [        God        ] Khore boldly redefines "away from keyboard".        06/29/2002
Hel [    Vampyre God    ] Khore is hardkhore bad to the khore.                08/30/2002
Hel [    Vampyre God    ] Khore looks a bit pale.                             12/10/2002
Hel [    Vampyre God    ] Khore.                                              01/11/2003
Hel [    Vampyre God    ] Khore stalks people like you.                       01/20/2003
Hel [    Vampyre God    ] Khore is *not* clown funny.                         01/31/2003
Hel [    Vampyre God    ] Khore declares war on the silly.                    02/13/2003
Hel [    Vampyre God    ] Khore: patron saint of AFKness.                     03/18/2003
Hel [    Vampyre God    ] Khore is now merely a statue in the great void.     04/10/2003
Hel [  Greater Goddess  ] Khore doesn't know.  It's a mystery.                08/25/2003
Hel [    Greater God    ] Khore waves his hand and says, "I'm not here."      10/01/2003
Hel [    Greater God    ] Khore, medium-high lord of TFC.                     10/21/2003
Hel [    Greater God    ] Khore is grumpy and grouchy and MEAN.               11/11/2003
Hel [    Greater God    ] Khore is no longer grumpy or grouchy.               11/26/2003
Hel [      Retired      ] Khore is retired.                                   01/22/2004
Hel [      Retired      ] Khore, the screwdriver of evil. 1 part oj+1 me.     03/16/2004
Hel [      Retired      ] Khore steals candy from babies.                     04/01/2004
Hel [      Retired      ] Khore likens himself to lichen.                     07/29/2004
Hel [      Retired      ] Khore: God of Unnatural Horses                      08/10/2004
Hel [      Retired      ] Khore thinks you're seeing things.                  09/14/2004
Hel [      Retired      ] Khore is Magical Trevor.                            10/12/2004
Hel [      Retired      ] Khore confirms Bliss alive and (physically) well.   11/17/2004
Hel [  Greater Semi-God ] Khore.                                              11/19/2004
Hel [  Greater Semi-God ] Khore: Evil Genius for hire.                        12/16/2004
Hel [      Retired      ] Khore: Evil Genius at work.                         06/23/2005
Hel [      Retired      ] Khore wonders who the hell you all are.             06/29/2008 
Hel [      Retired      ] Khore, muckduckek.                                  06/27/2015

Character History:
(Taken from the TFC Player Pages on the old version of the website)

There are breezes now that in my youth I could not have appreciated. My eyes are darker for the shedding of tears and my tongue more patient for the grooved marks of teeth where I too often had need to hold it in check.

But no. There is something soft in the wind that stirs me to remembrance. For these eyes were once much brighter. The weight of the scepter of power becomes the weak man's chainery. It is that weakness that refuses to let go. The glitter out-dazzles the weight.

Again, the breeze stirs me. Prodding me to travel back to when these aged hands had not yet held the garden's apple. And of a time before this tongue had savored that fruit.

...

In my youth, my heritage hid behind the veil of the subconscious, I believed myself to be half elven. The pointed, but only slightly, ears and my apparent luck convinced not only myself but also the contemptuous eyes of pure-bred contemporaries. The sneer on the elvish faces and the derision of humanity... I feasted on these. And yet even those in the camp where I grew up, misfits and outcasts all, kept me separate and apart.

They knew something without knowing...

And it was in the forests through idle chats with Jacek that I learned of me. In that tent where Magda sat unspeaking, where we spoke without even so much as acknowledging each other, I found a little bit of my history. And in those long and lonely walks to the icy plains, I saw my footprints and realized there was more than merely weight to leave such tracks.

And the whispered praises and love in confidence of Syla, my beguiling liege... in the words she chose not to say, beneath that facade of carefree mischief... in those I found my path.

And even then, I suffer from my supposed humanity's weakness in seeing the truth eye to eye and *choosing* to be blind to it. And for all the close calls, the ravaged wounds, and the clumsy acts of magic, it was not until I stumbled upon that gate in the southern forests that I realized who, and where, and what I was.

And then only when He had approached and told me.


History Snippet: 09/28/2001 - Khore & Doctor Syla:

Khore says, ' Syla, I think I have flesh eating bacteria.'.

Syla says, ' Eww, don't give them to me then please.'.
Syla says, ' Is your flesh falling off?'.

Khore says, ' just little bits of it.'.

Syla says, ' Oh okay. Let me know if your leg falls off or something.'.

Khore says, ' Not "Molo" like. I'm like a mini-Lich.'.

Syla says, ' heheheh, Cute.'.

Khore says, ' I'm so glad you're my doctor...'.


Remembrances of Khore
(A History of Khore from Mortals' perspective)

The potion you imbibed brought you not to the place of safety you hoped, but into a large, cavernous chamber, lit by irregularly shaped torches. Something chitters high above you, and a faint breeze stirs the air. The light of the chamber dims for a moment, as if something moved past the flames, yet left no shadow upon its walls. Blinking, you look for some cause. From within the darkest corner, a soft, biting chuckle emanates. Chills dance along your spine and your hand involuntarily slides to your weapon.

One pale hand flicks out from the shadows in a gesture of commanding denial. A figure follows; pallid, dressed in clothes that were in style centuries ago, in lands long since fallen to ruin.

"I am Bezil. Rememberer. Guardian. Keeper of this place in the absence of my Lord." The voice is quiet, icy, detached. "In his absence, I bid you gone from here." Noting your pause with tired annoyance, Bezil responds in a dominating monotone, "Now." A gesture, and you are flung from this lost holy place with a violence that leaves you marveling your bones have not shattered… but then the ground rises up to meet you, and you know no more.

When you come to, you find yourself in a forest, looking up at the night sky. The view is partially blocked by the face of a male half-elf, and a creature that looks like a cross between an elf and a cat. The male immediately murmurs, "Safe. You are well, and will come to no harm." The cat-thing tosses him a doubtful glance, but leaps back deftly, landing in a sprawling crouch at the base of a nearby tree.

Helping you to your feet and dusting you off, the fellow smiles ruefully. "Bezil took offense at your curiosity, I take it? He is ever more protective, since my Lord Ascended."

The cat-thing nods, and preens. "I woulda been His guard insteada Bezil, but He said I had to keep an eye on him…" she twitches one ear meaningfully at the dark haired half-elf, who carefully conceals a grin.

"Where was I?'" you ask, patting your pockets to see what gear you may have lost in your violent travels. "I must have gotten a particularly bad vial from Lestiggen…"

With a voice touched with sorrow, you are answered. "The home of Lord Khore, He who was once Lord of the Kindred." The cat yowls, a sound of mourning and twitches her whiskers at the man's response. At your nod, he continues.

"Khore was the one we both served, among others, when He held His rank of Demi and Lesser God. The Kindred waxed and waned in size and strength, like the moons above." A graceful gesture calls your gaze upwards, to the glowing orbs in the night sky. Odd, how his skin is nearly as pale. "Some endured to the bitter end. Others found other paths. Some sought solace in Immortality. But no matter where they walked, service under Lord Khore has touched them forever."

The cat leans forward, until you wonder how she manages to keep from toppling off her perch. "Not gonna give oath to NOBODY but a Kin. If not to Khore, and not to Kin, then not to NOBODY. Combee's nice. He's Kin. Maybe him."

The half-elf gives her a brief caress of comfort, and nods at her fierce words. "For some, yes, that's the right thing. Not for everyone." He turns back to you, and continues. "Khore was our lord for many, many years. He taught us much. Showed us much. Revealed much to the Realm at large. It was His hand that unveiled Sanguinna; His own Kin dwell there…."

"But Sanguinna… that's full of vampires…" you frown.

The cat-thing snickers, bearing fangs that you thought were simply the normal teeth of any hunting beast, but when the half-elf's smile bears similar ivory weaponry, you take a step back. Again, he makes a gesture of peace.

"Aye, the Kindred was a following 'cloaked in the crimson' as my Lady would say… but a following of honor. I've given you my word of safety. Besides…" He flicks his fingers, and the aura about him flares into brightness - a reassuring purplish light. "I have other Oaths now…. But that is neither here nor there… we speak of Khore, and the Kindred-That-Were."

"Khore's the bestest Immortal ever. That's why M'Lord Tynian grabbed Him and made Him an even BIGGER god!" The cat nods smugly, assuredly.

The vampire's lips twitch slightly as he hides another smile. "I would agree that my Lord Khore is certainly worthy to have been raised up by the Lord Implementor, Tynian."

A soft chuckle emanates from the woods, frighteningly close. A ghastly voice whispers, "A worthy toy, as well…"

As one, the three of you whirl, looking for the source of the new voice, but to no avail.

"Puny mortals. If I wished you to see me, you would. I remember Khore as a mortal… the fun I had sending the angry guards of the northern human city sailing down the river after him! Oh, how he yelped!" A nasty chuckle. "That, and watching him swim for his life, when the Great Implementor of Insanity would dump Khore into Bluto's swimming hole…"

The vampire-elf bows in a fashion that is carefully controlled and precisely polite. "Aye, Arch-Lich. And our Lord rose above those mortal torments to Demi-Godhood, and Lesser Godhood, and now…" His voice softens, but has a tiny edge to it. "And now… to Godhood… above many in the Realm. Even above yourself."

A snort. "True enough. But he is not here, now… and I.. and mine… are!"

The air shimmers and a tattooed blonde woman with piercing, jade green eyes appears, floating in the air.

She chuckles, "Carrying on about your little horde of Nashite murderers again, Molo?"

Someone glares around him.

"I remember quite a bit about Khore as a mortal. I owe my own introduction to Bluto to him. Too bad I never did quite finish off that over-grown sardine. . ." The Goddess of Chance grins maliciously and edges closer to you, speaking in a conspiratorial whisper. "You want to know about Khore as a mortal? Let me tell you . . ."

"Khore had this thing for traipsing along with this mage named Kaern. I think there was a hero-worship complex or something there. Anyway, he had two tendencies that cropped up again and again . . . bad run-ins with 'dargons,' and a penchant for getting himself turned into a female. Why, there was one time there for months on end when it seemed any draconic beast in the realm was drawing from a lottery to get a piece of him. He kept getting himself patched up, and headed back out, though. Quite persistent for a bony little mage."

She smiles at you and winks knowingly, then flicks her eyes towards the bushes to the west, alerting you just in time. Before the black clad figures can leap out, the bottle is already raised to your lips and quaffed, wrenching you a third time to….

Safety.

Perhaps your luck has turned for the evening…

You scan the chamber, making sure that none of the attackers have followed, and see only a woman standing statue-still over by the door, staring out into the Guild hallway. She is breathtakingly beautiful, with skin like the purest marble, and silken hair that falls like an auburn waterfall down her back. As you stare, unabashedly, it seems that she can feel the weight of your gaze. She turns. Her eyes meet yours. Suddenly, vertigo swirls over you. A tiny sound escapes your throat. She lowers her gaze, releasing you. A tiny frown creases her perfect skin, and she leans forward slightly, looking at you. Her nostrils flare, and as her eyes dance over you fully, the questioning look upon her face is replaced by one of understanding.

"I thought I caught the scent of Bezil upon you. I see his mark upon your chest."

Blinking, you look down, and see where the Guardian Vampire's talons raked four perfectly even slashes in your tunic, but did not disturb the skin beneath. A blush colors your cheeks.

"Hello. I'm Saphyre. I see you visited… Khore's… temple uninvited." The tiny pause before she speaks his name must have been your imagination. A single syllable could not possibly hold as much meaning as you thought it just did… love, loss, desire, longing, the weight of years of knowing.

You nod, holding back the questions that leapt eagerly to your tongue, wanting to know more, teased into overwhelming curiosity by the myriad shades of tone upon that one, single word. You glance around the room once more, just making sure that none have followed, and when your eyes return to the doorway, she is gone, moonlight driven away by the rising sun.


Trivia:
Khore had a very special relationship with Bluto, a certain infamous shark.
One of Khore's Attendants was Asia
Player Provided Information:
Cordir
(06/12/2011
Two immortals shaped me the most: Thaygar and Khore. Thaygar handed me a general story outline. Khore taught me how to craft and weave the story itself. Every Fateful Hour or Triat Mastery ritual ties back to the lessons I learned as a mortal in Khore's following. His RP appeared effortless, as he wove multiple personalities and presences into a cohesive whole. I would not have been the FLI that I was, without his inspiring example.
Nicholai
02/14/14
I was highly impressed at Khore's words-per-minute typing speed, especially during the Kindred's Great Fang Sheaths quest.
Personal Timeline:
December 1995: Khore, a half elf mage is created.

April 1996: Khore marries Risa, a level 20 ogress, in a wedding ceremony performed by Syla. (Soon thereafter, Risa leaves for a desperately needed stay at a charm school, from which she still infrequently escapes and steps on people. The wedding was later annulled.) Khore, a worshipper of Syla, is later granted Immortality and becomes an Ambassador.

May 96: Khore becomes a Demi God, creating the red-aura'ed following of the Kindred Vampyric. His holy symbol is a black cape. His first followers include his beloved Sapphyre, Kira, and Raith, as well as Shahrazad and Dalamar. He later Ordains Palmer and Combee. Less than two weeks after accepting him, Khore releases and rejects Dalamar with no explanation whatsoever.

July 31, 1996: Cordir, a wee little 16th level mage, has a chat with Khore and Nayr about a restring she lost... a Vampire's Kiss.

July 1996: Khore Semi-Retires, disbanding most of the Kindred, but accepts a young shamaness named Lena nonetheless.

9/24, 1996 - A GT is held in Costa Mesa, California, with Ivarr (the host), Marisa, Zarous, Khore, Foolkiller, Gryphon, Tokugawa, Einskaldir, T'Far, Cordir, ZARA, Polnevdra, Taffron, Nameless, Xaviera & Feydorian among the mudders attending.

December 2, 1996 - Khore posts "Things TFC Needs" to the TFC Mailing List.

December 27, 1996 - Khore cants 'This is not my lag. This has been a disclaimer.'.

January 11, 1997 - Khore posts "I, Pker" (probably his most famous written creation) to the TFC mailing list.

May 30, 1997 - Version 2.82a is installed. Khore posts "The Question" and "The Answer".

November 1997: Khore petitions for Neutrality for the Kindred, and is refused.

May 1998 - Combee is Ordained by Khore.

October 98: Asia is made Attendant to Khore.

June 28, 1999: Khore, Lord of the Kindred, Ascends to the position of God (and it works this time. The first time on 6/21, 1999, not so much.)

July 17, 2000: Khore posts a response to "expectations" on the tfc mailing list.

July 27/2000: Khore runs a contest: the first to bring him 5 fruits in a bag wins a chance to be teleported five times, and if they survive all five, they win a restring. Ananasi Aleitros of Fate survives the five teleports, and Khore offers double or nothing. After the ninth teleport, Khore grumbles that it hasn't been exciting enough (read, "Ananasi hasn't gotten killed"), and Ananasi makes the mistake of commenting, "Bring on the tenth, fangboy." Khore rifts her; thus, she loses the contest one short of two restrings. He decides to award her one restring for amusing him anyway.

August 31, 2000 - Khore has a slight mishap which prevents him from logging in for the majority of the day. No further details are permitted for publication. A storytelling is held in Cordir's office, by Thaygar and Khore

September 01, 2000: Khore hosts a story contest - "WHAT IF..." The deadline for entries being September 8th.

November 13, 2000 : Khore posts "Remembering October".

February 14, 2001: Khore retires, rather undramatically.

August 23, 2001: DarkClaw tells the tale of her life at the Hour, followed by a vision of the past, detailing when Khore asked the Kindred to bear a Strength and Weakness.

August 30, 2001: A Nature Reunion is held, and Rhina is unable to login as herself, so comes back as a level 1 named Aphra instead to attend the reunion. Attendees include: Aphra (Rhina), Myronides, Theoden, Tamar, Tonto, Dalaran, Solanthas, Khore, Lorali, Tokugawa, and Clumsyfool. Kerriariadne also stops by for a little while, and Elladan sends his regards.

August 31, 2001: Khore is re-promoted to God, after slightly more than 6 months of being retired.

September 04, 2001: ### A flea killed by Khore at The Chat Room- we're all still wondering about that.

September 06, 2001: ### A flea killed by Khore at The Void... we're STILL wondering why... swiftly followed by NosyMortals killed by Khore at The Void. WIZLIST showing Khore as being both a God and Retired.

September 21, 2001: Khore announces an upcoming quest.

September 22, 2001: The mud sees ### Whiny Mortals killed by Khore at Khore's Office.

September 25, 2001: Khore runs a trivia contest and Mael is the winner, receiving two potions of his choice. Khore attends the Fateful Hour, rewards Solaron for his week of service, and answers the questions of those present.

September 28, 2001: Sherank dies on the top floor of Master's Tower, and Mael goes in and gets the corpse single-handedly. Only an hour or so later, Aslan bad-vortexes to the Demon Realm. Dracos attempts the CR, but is overpowered and has to flee. Teluin makes an attempt as well, but dies. Mael heads in, and retrieves BOTH Teluin and Aslan's corpses. Khore finds the return of Teluin's corpse rather Un-Evil and sets a quest of Penance upon Mael... otherwise, his Goddess, Bliss, will be punished. So Mael does an evil deed to save Bliss from certain punishment (Marisa Notes: although saving his goddess doesn't sound terribly evil to me :P). Someone puts a statue, (Perfect in every regard, a chocolate statue of Bliss dominates the chamber), in Bliss' temple. Khore kills Plane twice, and gives his brain to Tamar. He then kills Azeworai, when Azeworai refuses to eat a chocolate heart from Tamar's ocelot. Skinhunter is heard proclaiming that he 'created the Dreamwalkers' on gossip, and is then quite personally rude to Khore when the Vampire suggests that Skinhunter not impersonate an Immortal. The little fellow is dealt with swiftly and thoroughly by means we are not allowed to convey here.

October 01, 2001: Khore posts the gladiator quest rules.

October 08, 2001: The Golem quest is ongoing! Berrin posts an idea about the animated golem boxes saying "Can we get them to shout instead of gossip that way I and many others can turn off the annoyance. thank you." As a result, Khore directs the golems to give Berrin a tell saying, 'So, I'm annoying am I?' every time someone enters a room with one of them.

October 8, 2001: Khore posts a note about his temporary absence, postponing the golem quest due to a RL accident *comfort*. Later he announces that the golem quest collection time ends Wednesday, 11:59PM, and that combat is to commence Thursday night, 9:00PM Mud Time.

October 11, 2001: Khore runs his 2nd annual golem quest!

October 12, 2001: Khore posts a note about what the golem weapons were. Khore creates Sleeg, the younger brother of slue, and charged a large group of players to ensure that Sleeg stayed alive. Then, a number of assassins attempted to kill the youngling, including Borlan. Then Slue jumped to his little brother's rescue, but became confused and nearly slew him, himself... Baron Marel came the closest of all of the assassins.

November 14, 2001: Khore grants formal permission for Noctus to seek Tranquility's hand in marriage.

December 23, 2001: Strider is killed by Khore for mobkilling out of range.

December 24, 2001: Khore posts [ http://www.tfcmud.com/tfc/community/timeline/2001/khorestrider.html a note about Strider & Revenant], and the debate about Torchbearer's following continues on in many, many notes.

March 22, 2002: Cordir posts Khore's Challenge. Lexie kills Khore and Triston!

March 21, 2002: Khore annihilates Cordir with a rift... Why? He had just told the immortals about the 'Cup o Noodles' he made for dinner.. which are prepackaged, overly salty, and taste like cardboard...then she had the audacity to describe what she had cooked for dinner: boneless chicken in a creamy dijon/white wine sauce with mashed potatoes, salad, and bacon/cheddar/garlic biscuits... and that she just had to throw away part of a home made apple pie, because Abe couldn't eat it faster than it went bad... the apple pie comment earned the rift!

March 22, 2002: Khore offers a prize to the first non-elf who can bring him a sharp wooden object. Kain shows up with a bamboo fishing pole, declaring it to be sharp and poky. Khore pokes Kain with a pole. Khore utters the words, 'rift'. Khore's soul rift *** ANNIHILATES *** Kain! Kain is DEAD!! Khore gossips, 'Nope, not sharp... but the rift was.' Moments later, Salim brings him a wooden stake, and wins the prize. Not satisfied until an elf is tortured, Khore has more fun with Kain, but announces him the winner in the "Stick Vs Kain" bout. Khore gossips, 'Sharp pointy ears no match for sharp pointy sticks.'. The games continue with Lexie pitted against Triston with a godweapon ... and more tomfoolery ... here's the log!

April 02, 2002: Cordir: Khore's Challenge... / Tue Apr 2 21:50:43 2002 / To: all / Khore Challenged the mud to provide him with thirty "Top Ten" lists having to do with him running a quest, or the individual winning first prize in his quest. This afternoon, we were at 29 entries. We are now at 35. Khore's Challenge has been met, and all entries provided to him for judging. In service to His Dread Sanguine Lordship, Cordir.

April 18, 2002: Cordir announces the winners of Khore's challenge.

April 23, 2002: Clue chooses a new life, and becomes Blood-Daughter to Lord Khore. Khore announces Information about two upcoming Quests!

April 28, 2002: Khore posts a note announcing Golem Wars 3.

May 7, 2002: Khore posts some notes about the words of power. Tte golem boxes start up with "An animated golem box gossips, 'HELP! someone is trying to kill me!'."... Khore's Golem Quest III hits the next stage.

May 09, 2002: Khore auctions 20 words of power, which are sold to Grale for "UngodlyAmountsOfCash". Black Market auctioning of words of power becomes widespread. The golem boxes start pondering things in their death throes.

May 13, 2002: "Someone" gives Bliss Ladislaw's decapitated head. Later, Khore offers to sew it back on, and gets hexed for his trouble.

May 15, 2002: Khore announces that golem construction has begun.

June 01, 2002: TFC Goes through The Big Move. This same day, Khore passes out some goodies, since it's all temporary anyway.

July 02, 2002: Khore talks about elves.

July 23, 2002: After some silliness on gossip, Khore makes a point playing Eenie Meenie Miny Moe!

August 18, 2002: Khore eats a pill of "rift rift death" that was cleverly disguised as a chocolate bunny. (Gee, wonder which chocoholic immortal that was really intended for :P)

September 07, 2002: Khore runs a brief scavenger hunt.

September 11, 2002: Khore Challenges The Elves - specifically Myronides - to choose a champion. Abe is chosen to be Champion of the Elves (even though he's a human). The contest turns out to be a battle of wits against Katrana, and Khore offers a prize of 100,000 coins to the winner.Here's how it turned out.

September 22, 2002: Garath gossips (in common), 'What are these wampires?'. Lycron gossips (in common), 'Guild pimps?'. Duvel gossips (in common), 'a sign that khore's still active, I guess :)' Lycron gossips (in common), 'Or they could just be guild pimps :-P'.

November 01, 2002: ### INFO: A very late Holloweener killed by Khore at at The Void ### INFO: A mortal begging for mercy killed by Khore at The Void ### INFO: Lexie's chances of winning this quest killed by Khore at The Void.

November 15, 2002: Provate starts suiciding on Slue, so Khore helps him find more creative ways to mobdie, including a trip to the longship and the Demon Realm.

November 16, 2002: Khore rifts Cordir nine times and vamp touches her when he hears she's turned in five entries to the writing contest.

November 19, 2002: Khore's late entry to the Chosen writing contest is added to that page.

December 23, 2002: Khore gossips a few Christmas wishes.

December 24, 2002: Khore posts a little Christmas present to the mud: the TFC forums.

January 06, 2003: Khore posts "Soliloquy to a Brook".

January 13, 2003: Khore reposts "I, PKer" to the Forums by request.

1/20, 2003: After sex changing everyone in the guild, Khore auctions an Amulet of Familiarity. Khore posts "An Unlikely Apprentice" to the forum.

January 22, 2003: Someone gossips, 'Khore controlled himself from killing Vex at least three times today. For the timeline.'

January 31, 2003: Khore posts "An Unlikely Apprentice: Into Fire" to the forums.

February 04, 2003: Khore posts "An Unlikely Apprentice: Finding Evil" to the forums.

February 05, 2003: The Unlikely Apprentice saga continues, as Khore posts "Finding Khore" to the forums.

January 06, 2003: Khore posts "Soliloquy to a Brook".

February 28, 2003: Khore posts "Journey's End" to the forums.

March 2, 2003: Khore posts "Dog Days and Rain" to the forums.

April 21, 2003: Khore posts "On a Cliff" to the forums.

June 16, 2003: Khore posts "Ehdawuin" to the tfc forums.

July 1, 2003: Khore is promoted to Greater God!

October 9, 2003: [[[Dundrave]] posts an angry note about "mud trash" which continues the note saga from Tweedle & Jobano, and Khore posts a funny response.

October 25, 2003: Khore turns 3000 years old. (Pretty young for a vampire.)

October 27, 2003: Khore gossips, 'Try not to die, and excuse the falling rocks of death in the temple area.'. after he "accidentally" meteor swarms the temple area.

October 30, 2003: Khore posts "The Singer" to the forums.

November 1, 2003: Khore announces the latest Golem Wars!

November 06, 2003: Khore runs a quest involving killer ducks (and other small normally otherwise-innocent animals) and Solaron is the winner.

January 07, 2004: Khore posts a few announcements from the void on the tfc forums.

January 13, 2004: Khore retires for the second time, posting a note called "With Deep Regret" to the tfc forums.

March 26, 2004: Khore is implementor for the day.

June 27, 2015: Khore stops by to congratulate [[[Ghazkull]] on his impending Triat Mastery Quest.
Wiki References: