Website
Jump to navigation
Jump to search
The current TFC website can be found at http://finalchallenge.net. The current Webmistress is Marisa.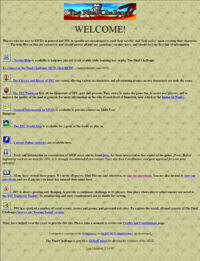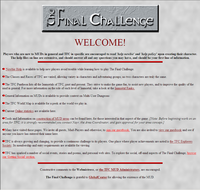 The look and content of the website has changed many times over the years. Here's a glimpse of what the website looked like in 1998, when TFC was hosted by Globalcenter, and Madman was serving as the webmaster, and 2001, when Cordir was webmistress.


On the earliest version of the website, Madman created a TFC Hall of Fame. It listed the only five players to reach level 50 (at that time). Another item on that site was the TFC Website Visitor Log, where players could sign their names.


Credits to the Creators and Contributors - Original Site through 2001:

Madman: Original Content Author, Original Webmaster
Thaygar: Assisting Author, Layout Author
Sinclair: Illustrator of Original TFC Banner Graphic
Cordir: Layout Review, Updates Author, Previous Webmistress
Shara L. J. Wilson, of Professional Illusions: Illustrator of TFC Northern Continent Map.
Elladan: Illustrator of TFC Southern Continent and Maelmordian Seas Maps
Scott Snedeker of IdeaWorks: New TFC Logo
James Ellis of Dark Epiphany Studios for Technical Assistance
Abender Stormreaver: Technical Assistance