Maldobar
Jump to navigation
Jump to search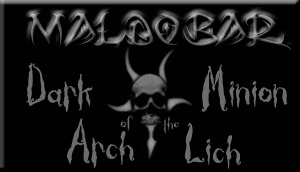 Mud Contributions:
Current Description:
A shroud of darkness surrounds this man, whos face is concealed by the hood of his flowing black robe. You suddenly feel a chill run through your body as he lifts his head slightly towards you, and decide to look the other way.


WHO Lists:
Hum [ Or:29 Wa:30 Ma:29 ] Maldobar, Dark Minion of the Arch-Lich.  [Nash]         08/31/2000
Hum [ Wa:30 Th:30 Ma:30 ] Maldobar, Dark Minion of the Arch-Lich.                 10/15/2001

Character History:
Trivia:
Maldobar won the vote for All Time Most Scary Player with 26% of the vote in BlissPoll 2002B
Maldobar is further mentioned in the various BlissPolls: The People You'd Most Want to Take With You to Visit Scairz (3% of vote), The People You'd Most Want to Take with You to Visit the Master of Magic (2% of vote), Grumpiest (7% of vote), Scariest (4% of vote), All Time Most Powerful (8% of vote), Most Humorous (5% of vote), Most Intimidating (10% of vote), Best Description of a Mortal (3% of vote), Best Looking Mortal (3% of vote), Most Annoying (3% of vote).
Maldobar was mentioned in one of the entries in the Top 10 Reasons You Don't Want Khore to Run A Quest.
Maldobar appears on the Tiger Retribution List - July 2002


Player Provided Information:
Miressa
05/21/2011
That guy gave me nightmares!
Silonch
11/20/11
Maldobar was the most mysterious, and very intimidating. I adored him and looked up to him, but he gave me nightmares too!
Wistom
01/09/13
At one time he was thought of as unkillable and I was one of the people that thought that.He was smart, carefull, EQ'd like only the clave could eq someone.He was a great killer and played the part of a killer so well.
Personal Timeline:
August 21, 1998: Maldobar is created.
August 04, 1999: Maldobar is assigned a quest.
July 31, 1999: Maldobar starts playing again, and posts a note called "Foul, non-believers."
September 21, 2000: Maldobar reaches Th:26/Wa:30/Ma:30
January 31, 2001: Maldobar levels to effective 50 (Th:30 Wa:30 Ma:30).
February 9, 2001: Maldobar, Katrana, and Vhirrek kill Justice.
August 28, 2001: Maldobar is given a stuffed snow leopard when he mentions he is lonely.
September 27, 2001: Maldobar posts sleeping dragons.
October 3, 2001: Cries similar to "An animated golem box gossips, 'HELP! Mael is trying to kill me!'." and 'Wow, I never realized how ugly Maldobar was...' resound throughout the realm.
October 23, 2001: Lexie is set upon by Drow, and Mael comes her her aid. He is slain and Maldobar steals the corpse.
November 11, 2001: Maldobar joins Stouthbound and Wolfgang as the top mobmaster-er in this day's mmrank list, with 104 mobmasters!
February 28, 2002: Keat commissions calling cards for Tylorn and Maldobar (see above) and Bubba from Cordir.
March 28, 2002: Maldobar gives away all his gear, as does Craige.
August 6, 2002: Maldobar returns the equipment gained from Mael's corpse when Mael died to a quest mob back in October of 2001.
February 18, 2003: Maldobar posts the following note: Kahlan the imposter. / Tue Feb 18 22:00:36 2003 / To: all / The character named Kahlan, Ancient Ward of the Ivory Rose is not affiliated with the Kahlan who did in fact follow Lord Kalten as a member of his Ivory Rose during 2.x and early 3.x. Since this new character sports an identical name, race and class configuration, and suspiciously similar title, I felt the need to interrupt my plotting and inform you. - Maldobar, Dark Minion of the Arch-Lich.

06/25/2012: Maldobar stops by for a visit.