Unity
Jump to navigation
Jump to search
Following Description / FINFO: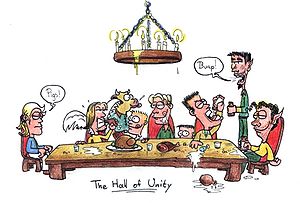 01/11/02
Robert, leader of Unity, Intermediate Power of the Sword.
Following's self-perceived alignment: Lawful Good.

Brief following description:
Robert's primary ambition for his followers is to achieve Unity: Unity among themselves,
Unity with others, Unity among the races. This should show in the way Unity members live
their lives. Whatever they set out to achieve, cooperating with each other, helping and
grouping where necessary...these things are not only important, they are crucial to the
survival and growth of the following.

Membership
Duvel, Adrean, Fletch, Gytar, Lizzy, Natalia, Paxton, Hellraiser, Valkur, Josephine, Darnell, Gerhard, Vin, Morgan , Porthios, Randell, Garath, Bengal, Harriet, Omrath, Tiuri, Elora, Unleeshed, Loren, Terny, Endrek, Legolas, Deathwing, Fenris , Kiri, Tanis, Ping, Bubba, Karyna, Avenger, Mickelman, Cygnus, Barabas, Sidonique, Lambique, Janett, Daryth, Helaman, Ibuku, Moonflower, Matthias, Morgue, Kale, Vinnie, Sukka, Jerome, Wannessin, Damien, Marike, Wolfgang, Jarid, Alair, Cynan, Mesaana, Venturon, Ganon, Tim, Crenshaw, Romar, Robby, Rudy, Icarus, Pheonix, Faith, Justin, Vincent, Mokar, Saryio, Croac, Glasya, Moroc, JohnWho, Cujo, Partizan, Qithlorien, Ambrodel, Organon, Soeperman, Patty, Sniper, Toadwatt, Serra, Siro, Khad, Taban, Blake, Makavalli, Luther, Perrin, Jessica, Jason, Cryo, Grishmo, Ran, Aoife, Zhur, Rand, Arkanis, Paladine, Nemo, Critical, Velin, Yelp, Grazztv Slim, Belgarion, McDuff, Muknuggle, Findec, Zinc, Scorpio, Majere, Darkflame, Vlantris, Jamal, Rodljus
Requirements for Entry
Additional Notes
Robert lived in the Netherlands, and many of his followers were European.
Robert hated to write restrings. He didn't mind making them if someone else wrote them, but he did not take any pleasure in the creative process. It was rumored at the time of his retirement that he had over 50 unused restring credits.