Plato
Jump to navigation
Jump to search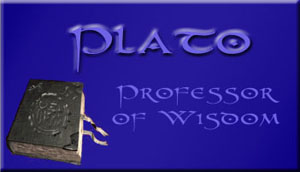 Mud Contributions:
Plato organized the Chicago GT in 2002. He also wrote an area: Lookout Tower.

Current Description:
(Taken from the original TFC Player Pages)
Plato is a tall human man. His face and arms has old scars on them. The scars that only a dragon could leave. You can't help but think, as a boy, he must have walked-up on a sleeping dragon and tried to play with him. He must have been a foolish boy, but lady luck must walk beside him, because he didn't die from his foolish game. His cloths are old and worn. The dirt on them shows that he likes to stay in the wood for weeks on end. His eyes show a great wisdom, as you look at him. He grins at you making you feel safe just being around him.

WHO Lists:
12/04/1999 : Hum [    Ra:25 Ma:27    ] Plato* Nash is my Life's Blood*
02/12/2000 : Hum [    Ra:27 Ma:27    ] Plato* Nash is my Life's Blood*
02/18/2001 : Hum [     Attendant     ] Plato, Attendant of Fate. 
09/11/2001 : Hum [      Demigod      ] Plato, Philosopher of Wisdom
03/19/2002 : Hum [      Demigod      ] Plato, Philosopher of Wisdom   *Bridget*

Immortality Petition:
[ 31] Plato: My Petition for Immortality
Mon Oct 16 19:54:45 2000
To: immortals

I reached 30/30 a few weeks ago. I have been searching my soul for what I should do next. I have reached my goal of 30/30 without being pk'ed. So, I need to set a new goal. I thought about seeing how many mob masteries I could get, but I get little enjoyment from mob masteries. I thought about pk'ing, but I have never attacked anyone yet, so why start now. I am going to set a high goal of becoming the best Immortal, I can be. I have the 40 mob masteries. I have read the rules for Immortality, and I see no problem in my ability to follow them. Thank you for your time.
Plato


Character History:
Trivia:
Plato is mentioned in the description of Axe.
Plato's RL son & follower, Hutt, later followed in his father's footsteps and became an Immortal.
Player Provided Information:
Personal Timeline:
06/03/1999 - Plato is created.
10/16/2000 - Plato Petitions for Immortality.
01/27/2001 - Plato becomes Attendant to The Chosen of Fate and Cordir.
06/03/2001 - 6/3/01 - Plato is promoted to Demigod! He starts Wisdom, a good aligned following, and his first follower is Shon. His following description says: "Wisdom is an aggressive GOOD following emphasizing having fun, wisdom is more powerful than equipment, spreading the word of Wisdom, and helping the following and the World grow through respect and integrity in everything they do. They believe that peace is the way to enlightenment. They also believe that if you live by the sword you shall die by OUR sword."
06/04/2001 - Plato's website for Wisdom is created and opened to the public.
06/28/2001 - Plato's temple is installed.
07/05/2001 - Tamar and Plato become allies.
07/21/2001 - Shon is ordained by Plato.
11/25/2001 - Teluin is ordained Druid by Plato
03/16/2002 - Plato rejects Anduin for assisting individuals on the Wisdom blacklist.
03/26/2002 - Plato orders Zakarious to stay out of his temple.
05/11/2002 - Wylin is Ordained by Plato.
06/11/2002 - Plato Ordains Tassadar.
06/24/2002 - Plato is Promoted to Lesser God.
07/02/2002 - Plato's area, "Lookout Tower" is installed. Drystan of the Chosen of Fate is the first to find it.
07/23/2002 - Hutt is ordained "Grub Worm" by Plato.
07/26/2002 - Some time this week, Plato hits 3000 hours of age, and accepts Xavier as an Attendant.
09/01/2002 - A GT is held at the ESPNzone in Chicago, Illinois with Myronides, Natilena, Boyardee, Solaron, Katrana, Humble, Faille, Plato, Shon, Snappy, Ambrose, Tazz, Wylin, Lorax, Maimer, and Lania attending.
10/23/2002 - Plato's temple is moved to the newly-expanded upper level.
02/05/2003 - Dekar is ordained "KING" by Plato!
06/06/2003 - Plato is retired.


Player Information: