User:Tynian/Selected of F8
Jump to navigation
Jump to search
Selected of Fate (F8)
I bring to you my Selected of F8 page, showing items I have actually purchased (selected) from the F8 slot in a vending machine! Inspired by Cordir's following, The Chosen of Fate. No disrespect to the former following is intended. It's just that every time I'd go to a vending machine and see F8, I thought of that following. I just couldn't keep it to myself any longer!
Big Texas Cinnamon Roll of Fate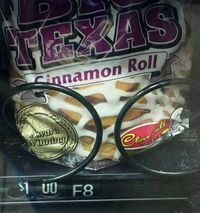 This is a 'Big Texas Cinnamon Roll'. I had one of these bad boys on August 4, 2011. It would not be classified as a healthy snack.
This danish contains 460 calories, 180 of which is from the 20 grams of fat this product contains. It also has 33 grams of sugar. Sweet!
This product rates a grade of D, according to Fooducate, because it:
Contains trans-fats.
Contains controversial artificial colors
Salty! Has over 20% of the daily max
Very high in saturated fat
Contains sodium benzoate
Fooducate suggests 'Papa Ciro's Cinnamon Knots' as a more healthy alternative, with a C+ grade.
I've had these before on occasion, but I wasn't able to finish this one. The sugar was starting to get to me.